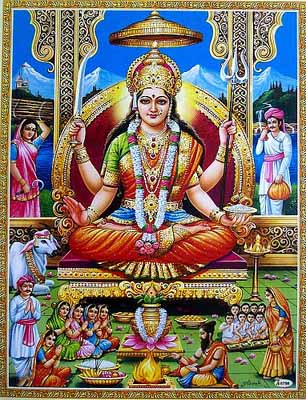 Santoshi Mataji
Santoshi Mata Pooja is usually performed for a period of 16 Weeks on Friday.
You will be required to have a Santoshi Matt Photo, the Pooja book which contains the story and for prasad you will need roasted chana, jaggery and green banana.
"You are not supposed to eat or touch anything which is sour like Curd, Lemon Etc"
On a Friday morning have head bath and place the photo in a clean Pooja area and put a small Kalash. Place Santhoshimatha's photo and decorate it with flowers. Keep channa (soaked in water for 6 hours in water) or puffed bengal gram along with jaggery piece and bananas as prasadam. Light diya before the Goddess. Chant the mantras and read the story and give aarti to the Goddess and have prasadam. You can do fasting the entire day or can have food only once in a day (may be supper or dinner). You are not supposed to eat anything sour on the day of the Pooja…
You need to do this for 16 weeks on Friday, and after you finish the 16 weeks you will be required to do Udyapan, i.e. you will be required to offer food to kids and remember not to feed them anything sour and not to give them any cash, as they might use the cash to buy something sour.
First gather the things required and then start the Pooja.
 Requirements for the Pooja:
1 kalash
Betel leaves
Flowers
Dry whole channa and jaggery for prasad
Camphor for aarti
Agarbatti
Diyas
Turmeric
Kumkum
Photo of Santoshima
Coconut for kalash (have to continue with the same coconut till you complete the Pooja)
A wooden stool for placing the moorti
Rice mixed with turmeric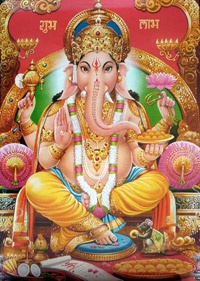 Shree Ganesh, father of Santoshi Mataji
Prayer to Santoshi mata's father Ganesh, mother Riddhi Siddhi. Prayer to wealth, gold, silver, pearl, and other gems. Prayer to Ganapati to fulfill all our wishes. To have success in business, to remove poverty, destruction of evil. Let there be peace and happiness and light. Let there be a house full of children, profit in business and huge earnings, fulfillment of one's desires destruction of evil, removal of sorrow and worry. The name of Santoshi mata gets all the work done smoothly.
Jai Santoshi Mata.
During this katha one should hold jaggery [gur] and roasted gram [channa] in their hand. The listeners should keep saying "Santoshi Mata ki Jai" "Santoshi Mata ki Jai" "Santoshi Mata ki Jai" all the time. At the end of the story the jaggery and gram, which is held in their hand, should be collected and given to the mother cow to eat.
The jaggery and gram kept in the vessel should be distributed as prasad to one and all.
Before starting the narration of the story, fill water in the vessel [kalash], and on top of the kalash keep a small bowl filled with gram and jaggery. After the katha finishes that is after the aarti, the water in the vessel should be sprinkled in every corner of the house and the remaining water should be poured into the Tulsi [basil] plant. One should buy jaggery and gram worth Rs. 1.25np and do the fasting. There is no problem if one does it with only 25 paise. If there is jaggery in the house, take that, do not worry because the mother sees to the sentiments, more or less does not concern her. Therefore as per your capacity with devotion you can make the prasad and offer with love and do the fasting.
On the Udayapan [last day] you distribute 2-½ kg. Khaja [cashews], poori, kheer, gram curry, sweets. Light the lamp of ghee and keep saying "Santoshi Mata ki Jai" and break the coconut. On this day there should not be any sour item in the house. Do not eat any sour item yourself nor offer anyone. On this day, feed eight boys food. If the children are there in the immediate close family – elder or younger brother-in-law's children, then do not call from outside. If there are fewer children from close family, you can call children from the Brahmins, relatives or neighbor's children. Do not give them any sour item and as per one's capacity give them gifts. Do not give money but give them any item. The person doing the fast after listening to the story should have the prasad and only one time meal. This way the Mother is very happy, and sorrow, poverty will be removed and wishes will be fulfilled.