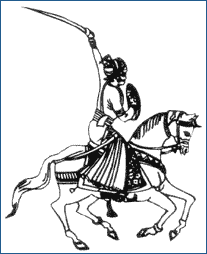 Jodha Karavadra of Advana
Here is the story of a brave Mer called Jodha Karavadra who lived some time in 1846 in the village of Advana. It so happened that about 23 Kathi horsemen from Jamnagar are raided the village and lifted the cattle herd in the small hours of the morning. The Kathis threatened the cow herd with daggers (kavari) and asked him to direct the herd behind them.
The incident took place between the sub-regions known as Mochidar and Dholipur, the two hillocks on eastern side of the village. The cow herd cleverly escaped and reached the village where the headsman Jodho was found. When the village headsmen heard the whole story of cattle-lifting by the Kathi gang, he immediately climbed his horse and chased alone the cattle lifters. He was able to get hold of the gang of lifters near the village Sankhala and challenged them to return the cattle to him. In the fight that took place between Jodho and the Kathis, daggers and swords were used. Kathis levelled a severe blow on the horse of Jodho. He decided to save the life of the horse and went back to his house and gave the horse for treatment to his wife. He immediately retuned to chase the Kathis with two daggers in his hand. The Kathis realised the impending danger and fled the spot living the cattle herd behind.
In another incident, Jodho Karavadro went to the rescue of a Rajput Darbar of Fatana village whose bullocks were taken away by the Kathi dacoits. The Darbar was in extremely pathetic condition because that was the right time of ploughing the fields, when he was deprived of the bullocks. The challenge was immediately taken up Jodho who led some Darbar youths for counter attack to get the bullocks back, the dacoits seriously fought back, but ultimately gave in. These two incidents clearly indicated that this was the age of might is right, and one had to be prepared to take care of the mighty robbers and dacoits. In the third incidence, Jodho went to the rescue of Maharana of Porbandar whose borders were often violated by the soldiers of Jamnagar State. The soldiers had to accept the defeat at the hands of Jodho who compelled them to give up the territory of Porbandar State. The Maharana was so pleased with loyalty of Jodho that hr was presented with 80 vighas of land which remained with his descendants for a period of four generations.
Article supplied by Kishan V Sisodia