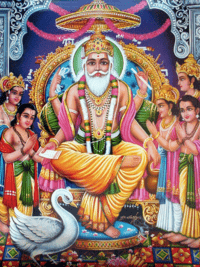 Vishwakarma is known as the God of Architecture
Vishwakarma is known as the God of Architecture. The festival of Vishwakarma Jayanti is celebrated in his memory as he is a divine architect. This festival usually falls in the month of February. People of industries, artists, weavers and others also celebrate this festival with great enthusiasm and fervor. In all industries and workplaces people observe holiday to celebrate this festival. Pooja is conducted at the workplace and Prasadam is distributed.
Vishwakarma taught the science of craftsmanship and explained various arts to others. This tradition is still going on as the learned persons teach the art and science of certain creations to deserving persons. People on this day clean their tools and also repair their machines. Statue of Lord Vishwakarma is placed in the compound of industries.
On this day the industrialists make a resolution to increase the production and also make changes in their way of working. Puranas say that Lord Vishwakarma created this universe. He created the city Dwarka also when Bhagwan Krishna shifted to Dwarka. According to mythology the idols of Bhagwan Jagganath is also prepared by Lord Vishwakarma to fulfill the request of a king. When he was carving the statue he put a condition that no one should open the door of the room as he himself will come out when the work will be completed. Many days passed but Vishwakarma didn't come out from the room. Then king pushed the door and saw that idol is incomplete. The king couldn't saw the Vishwakarma at that place. Since then the Idol of Lord Jagannath is worshipped in the same form.
Vishwakarma Arti
JaiDev JaiDev Jai Jai Sukhakaari Prabhu Jai Jai Sukhakaari.
 
Kambi kamdal Dhaari Hans per Svaari JaiDev JaiDev Aadh Anaadi Deve Ellor Ghadh Vaasi,
 
Prabhu Ellor Ghadh Vaasi. Bhakti Kare Jan Bhave Dukh Jaye Naashi. JaiDev JaiDev Vrudh
 
Swarup Vimoheet Vishw Hari Maraa Prabhu Vishw Hari Maraa. Vaastu Adhik Saathe
 
Shobhe Che Sara JaiDev JaiDev Sutra Pustak Dhari Ati Aanand Kaari Prabhu Ati Aanand
 
Kaari Su Vandu Jas Rasnaaye Sur Sankat Hari, JaiDev JaiDev Aap Veena Prabhu Maaro Eke
 
Nathi Aaro Prabhu Eke Nathi Aaro. Hoo Apradhi Bhari Bhavsagar Taro,
 
JaiDev JaiDev Vishay Vaashna Maari Te Prabhu Nivaaro, Te Prabhu Nivaaro Sharane Mujne Sathpo,
 
Nav Karsho Nyaro, JaiDev JaiDev Srusti Maatra Je Aape Sukh Kartaa Swami. Prabhu Sukh
 
Kartaa Swami. Das Hoo Sharane Aavi Kahoo choo Shir Naami JaiDev JaiDev Hari Govind
 
Goon Paamu Pad Seva Parbhu Paamu. Akhand Akshye Aapo Jai Jai Guru Deva JaiDev
 
JaiDev Shree Vishwakarma Deki Jai. Raandal Maat Ki Jai. Shri Achutam Sundirum,
 
Shri Elloraa Vaasitam, Shri Shilpinaa Aatmnum, Shri Shilpne Prakashitam.
 
Shri Chtubhuraj Shobitam, Shri Hans per Veerajita Shri Aakruti Naakam, Shri Vishwakarma Bhaje.