Birthday of the Goddess of Wisdom- Shri Sarashwati mataji
Vasant Panchami is a festival of the Spring season. 'Vasant' means Spring and panchami refers to the fifth day of the Hindu lunar calendar month. Thus, Vasant Panchami refers to the Hindu Spring festival that falls on the fifth day of the bright fortnight of the Hindu month of Magh. Vasant Panchami is also known as Shri Panchami.
It is also the Birthday of the Goddess of Wisdom – Shri Sarashwati mataji.
As 'Diwali' – the festival of light – is to Lakshmi, goddess of wealth, and 'Navaratri' is to Durga, goddess of strength, might and power, Vasant Panchami is to Saraswati, the goddess of knowledge and learning. She represents the free flow of wisdom and consciousness. She is the mother of the Vedas, and chants to her, called the 'Saraswati Vandana' often begin and end Vedic lessons.
This 'Panchami' is also known as Saraswati Day, because it is believed that on this day the goddess was born.
Saraswati, the goddess of wisdom, art and music is the daughter of Lord Shiva and Goddess Durga. It is believed that goddess Saraswati endows human beings with the powers of speech, wisdom and learning. She has four hands representing four aspects of human personality in learning: mind, intellect, alertness and ego. She has sacred scriptures in one hand and a lotus — the symbol of true knowledge — in the second. With her other two hands she plays the music of love and life on a string instrument called the veena. She is dressed in white — the symbol of purity — and rides on a white swan that symbolises Sattwa Guna or purity and discrimination.
The colour yellow is given special importance on Vasant Panchami. On this day, Saraswati is dressed in yellow garments and worshipped. People prefer to wear yellow clothes on this holy day. Sweetmeats of yellowish hues are distributed among relations and friends. Some people feed Brahmins, some perform Pitri-Tarpan (ancestor worship) and many worship Kamadeva, the god of love on this day.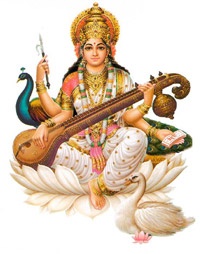 Jai Sarasvati mata,
jai he Sarasvati mata Sadgun vaibhav shalini,
tribhuvan vikhyata,
Jai Sarasvati….
Chandravadani padmasini dyuti mangalakare,
Sohe shub hansa savare,
atul tejdhari,
Jai Sarasvati….
Baen kar men vina,
daen kar mala,
Shish mukut mani sohe,
gal motiyan mala,
Jai Sarasvati….
Devi sharan jo ae,
unka uddhar kiya,
Paithi Manthra dasi,
Ravan sanhar kiya,
Jai Sarasvati….
Vidya gyan pradayini,
jag men gyan prakash bharo,
Moh aur agyan timir ka jag se nash karo,
Jai Sarasvati….
Dhup dip phal meva,
man svikar karo,
Gyanchakshu de mata,
jag nistar karo,
Jai Sarasvati..,.
Man Sarasvati ki arti jo koi jan gave,
Hitkari sukhkari,
gyan bhakti pave,
Jai Sarasvati….
However, the most significant aspect of this day is that children are taught their first words on this day, for it is considered an auspicious day to begin how to read and write. Educational institutions organise special prayer for Saraswati. The great Indian guru Pandit Madan Mohan Malviya laid the foundations of the world class academic institution of Kashi Hindu Vishwa Vidyalaya on Vasant Panchami.
Saintly people and individuals inclined towards spiritual progress attach great importance to the worship of goddess Saraswati. As a practice, only educated people and men of principle worship goddess Saraswati for spiritual enlightenment. In their opinion, there can be no comparison between the king and the learned or the spiritually advanced. The king is honored within his kingdom, whereas the learned is respected or worshipped throughout the world.
Hinduism has taken into account special significance of seasons and interwoven them with religious festivals. During Vasant Panchami, seasons undergo change and the coming of springtime is heralded. Trees display new shoots and new life is evident in the woods and fields. Nature decorates the mango trees with new blossoms, wheat and crops enliven with evidence of new life.
Vasant Panchami is a festival full of religious, seasonal and social significance and is celebrated by Hindus all over the world with verve and new sense of optimism. The first faint signals of the forthcoming festival of Holi — the festival of colours — also manifest at Vasant Panchami.
"To speak beautifully, sweetly, eloquently, kindly, lovingly, you invoke the goddess of speech, Saraswati. She is the divine power that flows through syllables, and she is also the embodiment of goodness. In fact, you always see her in pictures wearing a white garment, the garment of light, purity, and goodness. Words that flow as lucidly as clear water, words that sound as sweet as the fragrance of flowers are her gifts. Sarawati is the embodiment of knowledge, the inspirer of wisdom. Words that are uttered with her knowledge create beauty in the hearts of speakers as well as listeners. For this reason, in India every student is taught to offer obeisance to her before beginning any kind of study, whether it is secular or religious.
"With the blessing of Saraswati , speech is pure, speech is true, speech is uplifting, speech opens the heart and warms the soul, speech brings people together and draws them closer to the Self. This is the true freedom of speech, the speech that brings us closer to God, that gives us the experience of God's bounty, that allows us to live in this beautiful universe while offering our gratitude to God."
Jai Sarasvati mata