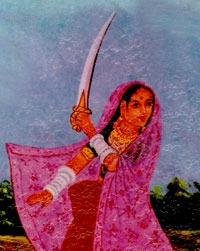 In the village of Nagaka some time in 1897 lived the village headmen named Devo of Sisodia linage. He was extremely rich and had the wife named Rani having kind nature and good manners. Nobody would go hungry from his house because of the readiness with which Rani used to prepare meals and serve them. She was the mother of seven sons and in spite of it she maintained robust and good health.
Two constables of Maharana of Porbandar were appointed in the village to look after the welfare of the people of Nagaka. Both of them were given boarding facilities by Devo and Rani without any reward. These constables were however dishonest and mischievous. They enticed Bhuro the son of Devo Patel (the title patel meaning headsmen of the village) in some minor criminal activities and began to threaten action against him. They also contrived to see that the so called guilty son ran away from the village. Under the pretext to get the clues of the whereabouts of Bhuro's son, they arrested their other two sons. The constables put them into chains as doubtful persons and accused of hiding their guilty brother.
The extortion activities of the two constables, causing cruelty on the two sons went beyond the toleration of Rani. She took out the talwar (sword) from her house and challenged the house constables. Both of them ran for their life and hid into the house of some other family in the village.
The constables later went to Porbandar and reposted their plight at the hands of a village woman to the head constable. The senior officer immediately went to visit the village to take stock of the grave situation. The head constable stood in the midst of the square of the village and threatened that he had come to take action against Ranibai, who committed offence of attacking the state constables. Rani boldly came forward and told him that she was prepared to face any threat created by the high handed and dishonest constables posted in the village. She announced that these two men had taken food for a number of days in their house and committed fraud against the family by involving her sons in crime to extort money.
With these words, she rushed towards the head constable in rage with the open talwar and struck him on the neck. As soon as she went on to give another fatal blow, the people of the village prevented her and took her into the house. The wounded head constable was brought to Porbandar. Rana Sahab himself went to hospital to see the wounded head constable. The Rana was greatly impressed by the ferocity and righteous anger of men and women of the Mer community. Though the Rana levied a token fine of 300 rupees for the crime of Rani, he became highly respectful towards the courage and power of Ranibai, and did not take more serious action against her family members.
Article supplied by Kishan V Sisodia