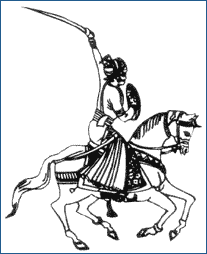 Maher on Horse with sword and shield
Surname is very important in Maher community and each surname has a long and distinctive history.
This is especially important when it comes to marriage, please see Matrimonial section for more details. Also your surname determines your "Kuldevs" (a family god), see Religion section for in-depth.
There are 14 main surnames that makes up our Maher community these are:
Keshwala, Sisodia, Rajsakha, Odedra, Jadeja, Solanki, Parmar, Vadher, Vada, Chavda, Chohan, Vadar, Pathiar, and Vagh.
Within these main surnames there are several sub-surnames (kind of confusing hey!). For example Sisodia consist of well known Godhania, Khastriya, Ranavaya, Kuchadia and Modhavadia as well as less heard of Haddiya and Pashtriya.
Here is the list of full surname and sub-surnames (known as "Bhaiyatas" brotherhood.
Click on a surname below or use drop down menu on right to find out full history and origin of the surname.
Maldev Bapu's strong believe of education and welfare of the Mer community enabled Mer children from different backgrounds a possibility to progress into a certain profession. His devotion for a greater Mer community is something that will never be forgotten.
Maher Surnames and their Kuldevs, Gotra, Vansh, Isthtadev, Gor and Barot
Surname
Bhaiyat

Gotra
 Vansh
Ishtadev
Kuldevi
Gor
Barot
Keshwala
Antrolia, Bheynia, Ratadia,Butta, Erda, Bagordara
Kashyap
Suryavanshi
Ramchandra
Khodiyar Mataji
Shri Vindhyavasini Aai
Girnara Brahmin
Sonrat
Sisodia
Modhwadia, Kuchhadia, Khistriya, Godhania, Ranavaya, Hadadiya, Pashtariya
Kashyap
Suryavanshi
Ramchandra
Shri Vindhyavasini
Aai Shri Chamundai
Shri Gatran Aai
Shri Sikotar Aai
Thanki Brahmin
Rehnuka
Rajsakha/ Jethwa

Karavadra, Khunti, Tilak, Gorania, Chundavadra, Jethwa, Surya, Jog, Modedra, Selot, Selar, Pariya- (Bhosiya) Bokhiria
Aashtang
Suryavanshi
Shri Hanumanji
Shri Vindhyavasini Aai
Shri Chamundai
 Joshi Brahmin
Brahbhat
Odedra
ઑડૅદરા
Visana, Ji (Odedra)
Okhai, Tukadiya.
 Kashyap
Chandravanshi
Gorakhnath
Vacharadada, Patha Pir
Shri Sikoter Mataji
Chamunda/ Balvi
Joshi Brahmin
Sonrat
Jadeja / Kishore

Kadchha, Ratiya, Tarkhala, Kadegiya, Pipraniya, Mekhadiya, Kulranmiya
Atri
Samved
Chandravanshi
Ashapuri
Ambaji, Kandhali Aai, Ashapura Ma
Girnara Brahmin
Lagdhir

Vaghela



Solanki, Timba, Samja, Vadaliya, Jakhniya, Bhanvadiya, Chabhhad, Divraniya, Bhogesra, Juneja, Gariyana, Sida, Chhaya
Atri
Agnivanshi
Vacharadada
Shri Shikoter Mataji
Joshi Brahmin
Brahbhat
Parmar
Mahiyaria, Chatraviya, Liboriya, Kahaliya, Kotadiya, Jilaniya, Mosa, Mandera, Pata, Gorsera, Badeja, Chandela
Gautam Rushi
Agnivanshi
Simiyar – Mandvari
Shri Maha Kali
Shri Mandavadi Aai
Girnara Brahmin
Sonrat
Vadher/ Rathod

Sharma, Sutreja, Sindhal, Padodariya, Chandesha, Dasa,Pandavadariya, Chanrodariya,Mahikya
Kashyap
Suryavanshi
Shri Khodiyar Aai
Shri Gatran Aai
Girnara Brahmin
Sonrat
Vada
Muliyashiya, Khimdaniya, Bapodra-(Mashani) Amar, Agath, Mihikiya, Timmasiya, Bhetakiya
Kashyap
Suryavanshi
Visant Mataji,
Shri Vindhyavasini Aai
Chamunda Mataji
Vihot Mataji
Joshi Brahmin
Brahbhat
Chavda
Navadiya, Kothvada, Kothadiya, Padorodiya, Kodvara
Kashyap
Suryavanshi
Shri Shikoter Mataji
Joshi Brahmin
Brahbhat
Chauhan
Gareja
Agnivashi
Shapurna mataj
Shri Chamuda Mataji
Joshi Brahmin
Brahbhat
Vadar
Nandaniya, Nakura, Badhsa, Hilla, Jasiya, Bamaniya
Chandravanshi
Shri Chamuda Mataji
Joshi Brahmin
Brahbhat
Parihar
Thapaliya
Agnivashi
Shri Chamuda Mataji
Joshi Brahmin
Sonrat
Vagh (Chudasama)

Bhalejia, Gorejiya
Atri
Chandravanshi
Shri Amba Mataji
Shri Khodiyar Mataji
Joshi Brahmin
Sonrat
 Bhati
Bhutiya
Atri
Chandravashi
Shri Vindhyavasini Aai
Joshi Brahmin
Brahbhat