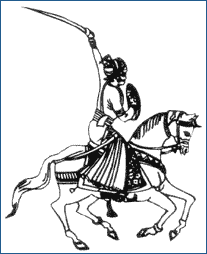 Vansh : Suryavanshi
Valla  / Balla  /Ghalot (Ghelot/Guhilot)
24 saca or branches. Solar. The raja of Udaipur is a Grahilot.
Sub divisions: Sisodia, Gohil, Chundawat, Ranawat, Shaktawat, Sarangdevot, Sangawat, Chandrawat, Kshemawat, Suhawat, Ahariya
Gahlot / Sisodia (Sisodia, Sesodia)
This is the story of the integration of Sisodia Rajputs with Mer community –
A second branch of the Gohils, who were related to the Sisodias of Chittorgarh, ruled Khergarh in Marwar. They were defeated by the combined force of the Rathores and Sodhas. As a result they were forced to migrate to Kathiyawar. They built alliances with the Mer rulers and eventually established a kingdom: The Kingdom of Bhavnagar. They fought the Nawabs of Junagadh and Gaekwads of Baroda constantly. They became famous after plundering countless fleets of Mohammed bin Tughlaq. 
The main branch of the Sisodias in Chittorgarh are legendary. They performed Jauhar (communal suicide of women after defeat is inevitable) 3 times. Maharana Pratap was from this dynasty. He fought against Akbar throughout his life for the freedom of his people. Sisodias were the most powerful rulers of Rajasthan. Maharana Sangram Singh subdued the Kingdom of Malwa, Sultanate of Delhi and Sultanate of Gujarat.  
Article supplied by Kishan V Sisodia; edited by Ravi Odedra
Article supplied by Kishan V Sisodia; edited by Ravi Odedra