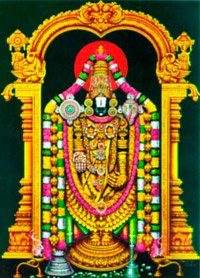 Venkatewsara, another form of Lord Vishnu, is one among the Trinity, representing the power of sustenance. He is regarded as "Kaliyuga Varada". In the "degenerate" age of Kali. He is always close to devotees and ever ready to bless and protect them. He is also called Balaji and Govinda.
Auspicious Days and Festivals
Saturdays and the whole month of Purattasi are auspicious to Venkateswara. On the first Saturday of every month and on the Ugadi day Srinivasa Kalyanam is performed Brahmotsavam is celebrated in the month of Kanya.
Special Offerings
Thulasi leaves, flowers, raisins, Laadu, Adai, Tamarind rice, Yogurt rice and Vada are, preferred offerings to Lord Venkateswara. Abishekam and special decorations with flowers (Poolangi) and Gems (Muthangi) are famous to LordVenkateswara. Performing Srinivasa Kalyanam is also customary.