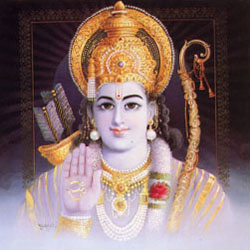 Ram is the eight major incarnation of Vishnu. Vishnu assumed different forms on several occasions and came down to earth to protect the good people from the evil, to re-establish the right order and to punish the wicked. Ram is one of the most popular Avatar. He exemplifies the idea of Manava Dharma (duties and moral code for humans).
Mondays and Saturdays are auspicious to Ram. Navami, the ninth day of lunar fortnight, is a special day of worship of Ram. Sri Ram Navami falling in March-April is celebrated as the birthday festival of Ram. Sita Kalyanam is celebrated during on the days of Sri Ram Navami Festival and also during Navaratri. During the Ram Navami festival, devotees chant the entire Ramayana. The tenth day of Navaratri, is celebrated as Vijaya Dasami, the day Ram destroyed Ravana and his demon forces. Deepavali is celebrated as the day of Ram's return to Ayodhaya and coronation as its king.
Apart from flowers and fruits, light drink prepared from jaggery and also butter milk are special offerings to Ram. Reciting the verses in Sundara Kaanda in Ramaayana is auspicious. Performing Sita Kalyanam is also customary.