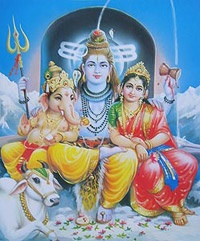 Shri Parvati with Shiv, Ganesh and Nandi (the bull)
Parvathi is the daughter of Himalayas, is the consort of Shiva. She represents the universal power (Sakti) that is the primary activating energy in the self-revelation of the absolute. Othercommon names for Parvathi are Sakti, Parvathavardhini, Rajarajeshwari, Meenakshi, Kaamakhi, Visalaakshand Lalitha.
Auspicious Days and Festivals
Fridays are very auspicious to Parvathi. The first three days during the Navratri festival are celebrated for Parvathi. Meenakshi Kalyanam is celebrated on the Chitra Poornima day. Bhagavathi Seva is performed during the months of Makara and Karkata.
Special Offerings
Special puja is performed to Parvathi by invoking her in the lamp. This is called "Deepa Puja. Special abishekams and alankaras with flowers and turmeric powder are customaryBhagavathi Seva is famous in Kerala. Paayasam andVada are special offering to Parvathi.