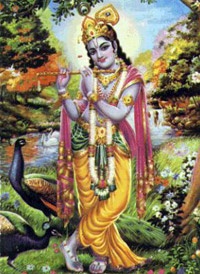 Krishna is one of the ten major incarnations of Lord Vishnu. Among the avatars of Lord Vishnu, perhaps the most popular is his descent as Krishna. He imparts divine wisdom to Arjuna in Bagavath Gita. Kanna, Govinda, Madhusudana, Muralidara are also his common names.
Auspicious Days and Festivals
Thursdays and the star Rohnini are auspicious to Krishna. Sri Krishna Janmaashtami is celebrated as a big annual festival.
Special Offerings
Garlands with Thulasi leaves and fruits, beaten rice with jaggery and butter are special offerings to Krishna. Special decorations with butter are performed to Krishna.