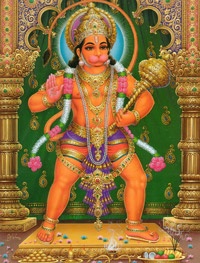 Hanuman is the son Vaayu, the wind god. The great devotee of Lord Ram. He isoustanding scholar and master of vedas. He symbolises heroism and valor to fight for the cause of dharma, devotion and service, and above all humility. In Bhajans it is cusomary to conclude with a sing for Hanuman. Other common names of Hanuman are Aajaneya and Maaruthi.
Auspicious Days and Festivals
Tuesdays, Thursdays and Saturdays are auspicious to Hanuman. His star is "Moola". Hanumath jayanti is celebrated on the day of "Moola star" in the Hindu month of Dhanu (Vrichiga, Margazhi). The last day of Sri Rama Navami festival, the birthday of Rama, is celebrated in honour of Aanjaneya.
Special Offerings
Offerings of butter and garlands with vada, thulasi and betel leaves are special to Hanuman. On Hanumath Jayanthi day more than one thousand eight vadas are offered as a garland to Hanuman. Special decorations with butter are performed to Lord Hanuman. Reciting Hanuman Chaalisa and writing the holy name of Rama on these days are considered auspicious.