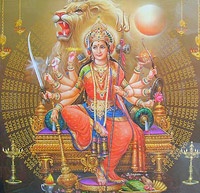 Goddess Durga represents Shakti, the female principle of energy, the counterpart of Shiva. She is the Goddess of valor and slayer of demons that were personifications of vaunted ego, ignorance, sloth, etc. we invoke the Mother Durga to help us annihilate within ourselves all negative forces; all weaknesses. Other common names of Durga are Kali and Mahishasuramardhini.
Auspicious Days and Festivals
Tuesdays and Fridays are considered specially auspicious to Durga. Nava (Dasera) is celebrated for Durga. Chandi Homam, the chanting of Devi Mahatm (the glory of the Divine Mother), is performed during Navaratri and on s occasions.
Special Offerings
Performing archana or lighting lamps made of dough during "Raahu kaalam" is to Durga, Garlands made of lemon are usually offered to Durga. Special decorations with turmeric and sandalwood pastes and flowers are made as special offe Reciting Lalitha sahasranaama and Mahishaasura Mardhni sthorthram and perfoi Chandi homam are auspicious.