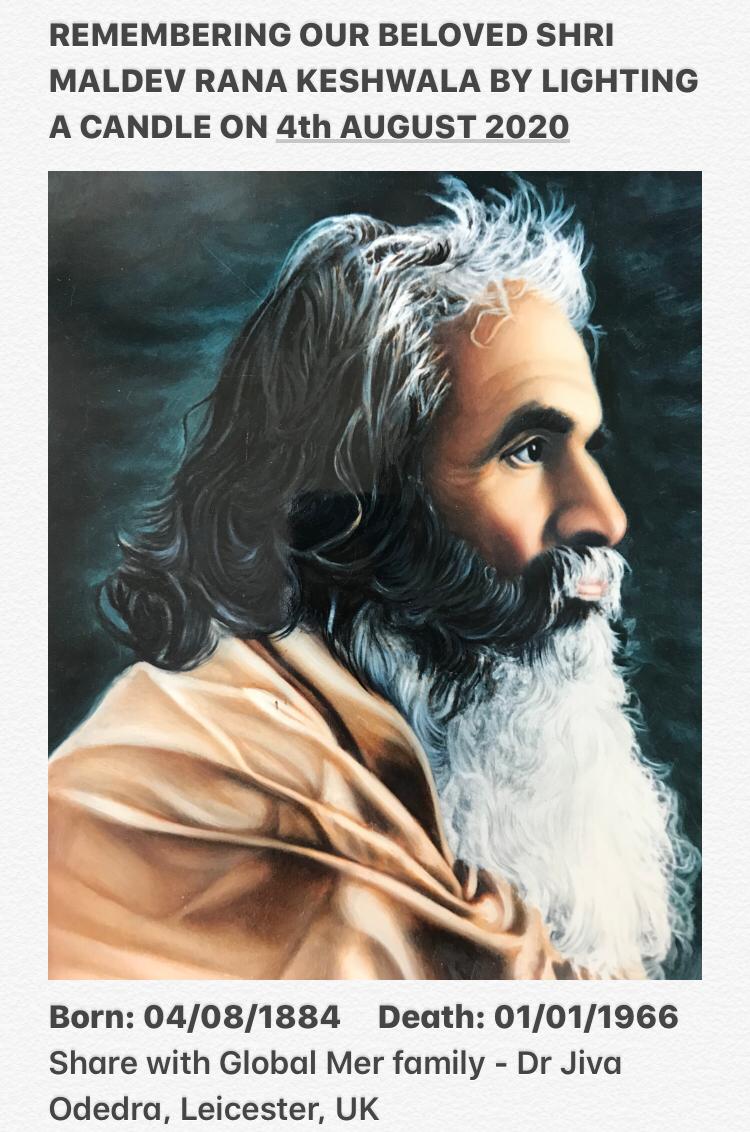 In the contemporary setting Shri Maldev Rana Keshwala is revered unanimously by all Mers across the world yet very few Mers know about him or his enduring work for his beloved community.
After his fathers untimely death, Shri Maldev Rana and his Brother Nagarjuna Keshwala – who later took sanyas and became known as Atmaprakashji – made a decision to educate Mers.
The above image represents the first known list of Mers receiving education and it was at primary level.

Note; the annual fees paid by the boys – there was no provision for girls education in the state – and total sum per annum paid by parents. More than that, note, how meticulously Shri Maldev Rana kept the records. From this list as far as I know, fourth and fifth generation Mers are living in the UK and North America – Arjanbhai Jethabhai had died in Africa at very young age but his nephews are in the UK and North America; Dosabhai Murubhai family are here too; Parbatbhai Ranmalbhai family are mainly in the UK and known as Sisodia family, located around London; Lakhmanbhai Murubhai family are in Peterborough and Hemel Hempstead; Sanganbhai Gigabhai family are in Peterborough and in the UK; Siyabhai Devshibhai family are in the UK and North America; Rambhai Khunti, first Mer PhD, is son-in-law of Siyabhai Devshibhai and settled in North America.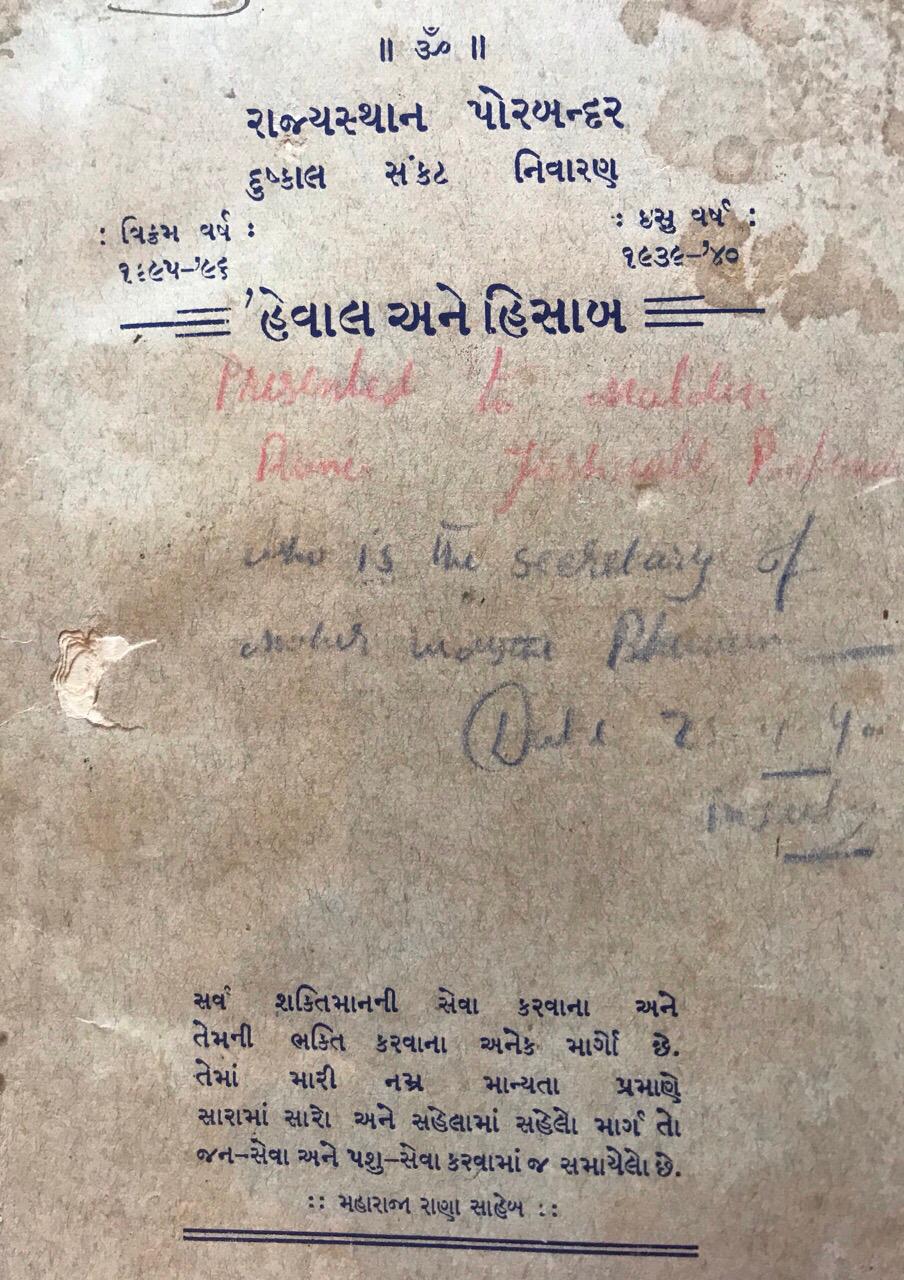 Subsequently, Mer education successes followed under Shri Maldev Rana Keshwala who affectionately became known as "Maldev Bapu" amongst his students and wider community.
The initial outcome of Mer education success was beyond anyone's comprehension – Jethabhai Visana, first Mer Barrister, Parbatjibhai Odedra, first Mer Medical Doctor, Maldevjibhai, a lawyer and first Finance Minister in Gujarat Government, Parbatbhai Vagh a first Mer senior police officer and just missed out as DSP; Hardashbhai Bapodra, first Mer Electrical Engineer; Kanabhai Modhwadia, Civil Engineers and later a senior officer on Sardar Sarovar project – and there were so many more and these names themselves inspired many more Mers to educate themselves.
Our own Dr Virambhai Godhania took inspiration from Shri Maldev Bapu both while educating himself and later in pioneering Mer girls education during 1980s.

Shri Maldev Bapu researched and collected Mer Literature and compiled in a volume of books. He wrote total of fourteen books.
The final one being 'Maher Javanmardo', which remains a reference book for any Mer history researcher.
Shri Maldev Bapu had visited Africa on fund raising initiative and travelled from village to village visiting Mers and before departing for India inspired the East African diaspora to create a permanent Mer building.
Shri Maldev Bapu worked with Mer community village leaders to create a sense of unity amongst Mers; these leaders subsequently helped to collect funds so that Shri Maldev Bapu can build a Mer Boarding house for Mer students in Porbandar and a place for Mers from villages to take a rest.
Shri Maldev Bapu had worked with Mer leaders to change social custom of feeding village – Dumadabandh jamanvar – when a member of family had died. This custom was creating a tremendous financial burden on the deceased's family and even ruin future welfare.
Shri Maldev Bapu had developed close relationship with Shri Nanji Kalidas and Shri Natwarsinhji, king of Porbandar amongst others.
Shri Maldev Bapu had donated land to Shri Nanjibhai Kalidas to build Girls education institution in Porbandar and this was to help Mer girls educate – both local and from East Africa.
In 1947, when state of Junagadh had refused to join Indian Union and chosen to join newly created Pakistan, Shri Maldev Bapu took up arms as well as inspiring other Mers and participated in a campaign known as 'Arzi Hakumat' to liberate people of Junagadh state.
The list of personal sacrifices made by Shri Maldev Bapu for his beloved Mers is very long and it is not possible to list them all here.
The image above represents front page of a report for the killer draught of 1939/40 – commonly known as Sanuo Dukal – in this report there is no mention of Mers and yet at the end of 20th century Mers were individually and collectively stamping their authority internationally in many fields.
It would not be wrong to claim that Mers today are extremely successful and prosperous but each one of us owe some debt to Shri Maldev Bapu directly or indirectly.
Shri Maldev Bapu's name as far as Mers are concerned is synonymous with – Fidelity, Truth, Valour, Loyalty, Devotion – and these values continue to inspire all Mers globally.


I sincerely request that on 4th August 2020 – take a few moments to remember our beloved Shri Maldev Bapu and light a candle in his name – and it goes without saying that we carry his blessings with us wherever we go.

Dr Jiva Lakha Odedra, Leicester, UK
(Please share this message globally and before 4th August 2020)