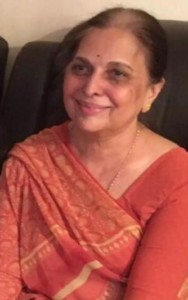 It is with deep sadness we inform you that our beloved Shantiben Kuchhadia wife of Nathabhai Jivabhai Kuchhadia – Fatana who passed away peacefully on 9th December 2019, Monday night at age of 66 years.
A shok sabha will be held on Sunday 15th December at 11am-5pm at Pravasi Mandal 65 Elsden road Wellingborough Northants NN8 1QD for our beloved.
The Funeral will be held on Wednesday 18th December 2019. The ceremony will be held between 8am and 9.30am at:- 29 Shaftesbury Street, Kettering NN16 0RR followed by the cremation at 10am Kettering crematorium at Kettering Crematorium, East Lodge, Rothwell Road, Kettering, NN16 8XE.
We kindly request you to make your way back to the home address thereafter for prasad.
The family sincerely appreciates all the messages of condolences & support during this difficult time.
Nathabhai Kuchhadia
Tel 07448 629352
🙏🏽 Om Shanti 🙏🏽