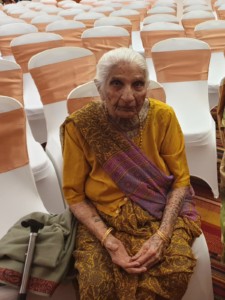 Sita Ram
Jai Shree Krishna
It is with sorrow we inform that Rudiben Hardasji Karaji Odedra passed away peacefully on 12th September 2019, aged 105 years old.
Her funeral will be held on Thursday 19th September 2019.
She will be brought home at 9.30am for antim vidhi, puja and darshan at:
19 Loughborough Cottages
83 Loughborough Road
Leicester, LE4 5LL
Followed by crematorium rights at 11.30 am at:
Gilroes Crematorium, Groby Road, Leicester, LE3 9QG
Thereafter, the family kindly request that you all come for prasad and join us in the celebration of Baa's life.
Please do not bring flowers. You may if you wish make donations to: Loros Hospice, Groby Road, Leicester.
Thank you for your support and messages which we appreciate and have found comforting.
The Karaji Family
Aum Namah Shivay
Aum Shanti