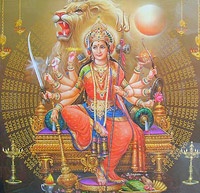 On the first three days of Navratri, the goddess is invoked as a powerful spiritual force called
Durga
in order to destroy all our impurities, vices and defects.
The nine nights of celebration which precede the festival of Dussehra or Vijayadashmi, is known as Navratri. There was a time when the world was in the demonic grip of Maheshasura (a demon who had taken the form of a buffalo). The boon of invincibility, made him all powerful, for no man could ever defeat him in battle.
Maheshasura conquered the heavens, and possessed the palace of the gods. The gods pleaded with Shiva for help. Shiva appealed to Parvati, who used her shakti and a goddess appeared from the dark. Durga is the tamasic (dark) incarnation of Parvati. The gods bowed before Durga and offered her their powerful weapons. While the gods watched, Durga battled Maheshasur.
On Vijayadashmi, Durga won back the heavens and earth from Maheshasura when she thrust her trident into his chest and killed him. Navratri is a festival of worship,dance and music celebrated over a period of nine nights.It is celebrated from the first to ninth date of Ashwin Shukla Paksha of the Hindu Calendar for the worship of the Goddess Durga.
Goddess Durga is believed to exist in many forms like Goddess Bhavani, Jagdamba,Mahakali and many many other names.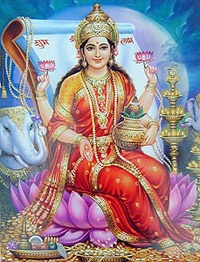 During the next three days, the Mother is adored as a giver of spiritual wealth,
Lakshmi
, who is considered to have the power of bestowing on her devotees the inexhaustible wealth.
Devotees perform the 'devi-sthaapna' in their homes wherein they invite the Goddess and perform 'pooja-path' for nine days.
Gujaratis perform their traditional dances 'Garba' &'Dandiya-Raas' during Navratri. The women-folk dance in a circle, singing 'Garbas' or traditional songs.'Dandiya-Raas' is played with wooden sticks or 'dandiyas'. Apart from Gujrat,Garbas are performed in other states & cities like Mumbai. Beautifully decorated 'mandaps'are set up for playing garba & dandiya by various cultural societies,housing commitees & youth social groups. Young men-women wear colourful traditional dresses and play Garba with great enthusiasm.
The mood of Navratri is very colourful & unique. In West Bengal, Navratri is celebrated as 'Durga-pooja'which is the most important festival in that part of India.Celebrations of Durga-pooja in Bengal are similar to celebration of Ganesh Chaturthi in Maharashtra. Idols of Goddess Durga are worshipped for nine days in beautifully decorated 'pandaals'. It is a public festival. On the tenth day,the 'Visarjan' or immersion of idols in sea waters is performed. In various parts of India,the 'Ram-Leela' is performed during Navratri.
Ram-Leela is a stage enaction of Ramayana, the story of Lord Rama. The day after Navratri,i.e.,tenth day, is observed as 'Dassera' or 'Vijayadashmi'. It marks the victory of good over evil. It is believed that on this day, Lord Rama had killed the demon Ravana. So, on Vijayadashmi, effigies of Ravana are burnt all over India. During the first nine days of Asvina (aaso) month of Hindu calendar we honor "Divine Mother".
Three days for Durga (Goddess of valor) three days for Lakshmi (Goddess of Wealth) and three days for Sarswati (Goddess of Knowledge) are devoted to the Trinity of God worshipped in a female form. It is Sakti, identical to the Brahma (absolute) of Vedanta.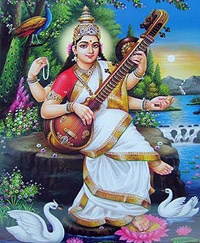 The final set of three days is spent in worshipping the wife of brahma as the goddess of wisdom,
Saraswati
. In order to have all-round success in life, we need the blessings of all three aspects of the divine femininity, hence, the worship for nine nights.
On the fifth day (Lalita Panchami), it is traditional, to gather all books, light a lamp and invoke Sarswati (Goddess of knowledge and art).
Artisans will rest their "tools" and offer them worship. The eighth and ninth day, it is traditional to perform "Yagna" or Havana (sacrifice offered to the fire- purification and symbolic burning ceremony) to honor "Divine Mother" and bid her farewell.
Some devotees also observe "fast" for 1 day or all the nine days testing their ability to control their senses and create more energy "Sakti". The tenth day, also known as Vijaya Dasami (day of Victory over evils), Dasara or Dussehra is significant to launch new activities or beginning of learning. In Northern India, huge effigies of Ravana are burnt to celebrate Rama's conquest of the demon on the Tenth day.
There are parades or Ram lila in many localities. In eastern India, the festival is known as Durga Puja where the images are created, worshipped for 10 days and immersed in the sea. In southern India, houses are decorated with displays of dolls, toys and images of the Gods. In western India, the traditional Garb dance is performed nightly primarily by the ladies. Currently, however Dandiya (with disco beats) has taken a fancy with many men or women as they go in a trance like state with non-stop music.
Ψ જય અંબે Ψ
Ψ જય આઇ શ્રી ખોડિયાર Ψ
Ψ જય માતાજી Ψ