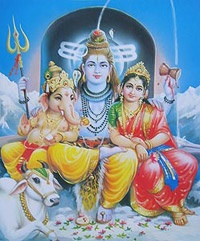 This takes place on the I3th (or I4th) day of the dark half of Phalgun (February-March). The name means "the night of Shiva". The ceremonies take place chiefly at night.
This is a festival observed in honour of Lord Shiva. Shiva was married to Parvati on this day. People observe a strict fast on this day. Some devotees do not even take a drop of water. They keep vigil all night.
The Shiva Lingam is worshipped throughout the night by washing it every three hours with milk, curd, honey, rose water, etc., whilst the chanting of the Mantra Om Namah Shivaya continues.
Offerings of bael leaves are made to the Lingam. Bael leaves are very sacred as, it is said, Lakshmi resides in them. Hymns in praise of Lord Shiva, such as the Shiva Mahimna Stotra of Pushpadanta or Ravana's Shiva Tandava Stotra are sung with great fervour and devotion. People repeat the Panchakshara Mantra, Om Namah Shivaya.
He who utters the Names of Shiva during Shivaratri, with perfect devotion and concentration, is freed from all sins. He reaches the abode of Shiva and lives there happily. He is liberated from the wheel of births and deaths. Many pilgrims dock to the places where there are Shiva temples.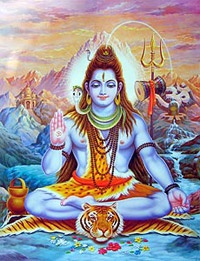 ||Shiv Arti ||

OM JAI SHIV OMKARA, PRABHU JAI SHIV OMKARA
BRAHMA VISHNU SADA SHIV, ARDHANGII DHARA
OM  JAI SHIV OMKARA…
EKANANA CHATURANAN PANCHANAN RAJE
HANSANAN, GARURAASAN VRISHVAHAN SAJE
OM JAI SHIV OMKARA….
DO BHUJA, CHAAR CHATURBHUJA DASHABHUJA ATI SOHE
TIINON ROOP NIRAKHATE TRIBHUVAN JAN MOHE
OM JAI SHIV OMKARA…
AKSAMALA VANAMALA MUNDAMALA DHARI
CHANDANA MRIGAMAD SOHAI BHAALE SHASHIDHAARI
JAI SHIV OMKARA…
SHVETAMBARA PIITAMBARA BAAGHAMBARA ANGE
BRAHMADHIK SANAKAADHIK PRETAADHIK SANGE
OM JAI SHIV OMKARA…
KARA MADHYE KAMANDALU AU TRISHUL DHARI
JAGKARTA JAGHARTA JAGAPALAN KARTA
JAI SHIV OMKARA…
BRAHMA VISHNU SADASHIVA JANATA AVIVEKA
PRANAVAKSAR KE MADHAYA TINONH EKA
OM JAI SHIV OMKARA…
TRIGUN SWAMI KI AARTI JO KOI NAR GAVE
KAHATA SHIVANANDA SWAMI MANA VANCHITA PHALA PAVE
JAI SHIV OMKARA…