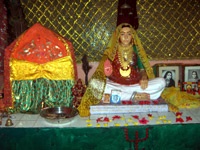 The kuldevi has a crucial role in the religious lives of Maher men and women: she is the foremost divine guardian of their fortune and honour. Many of the myths that recount the miraculous deeds she performs as guardian not only make wonderful reading they abound in romance, intrigue, danger, and conquest they also give access to the worldview of Maher women.
A goddess begins her career as a kuldevi when she becomes incarnate at a critical point in time in order to rescue an endangered group of Maher whom she judges worthy of her protection. In most cases she reveals herself to their leader and inspires him to surmount whatever problems he and his followers face. Afterward she helps him establish a kingdom, at which point he and his relatives become the founders of a kinship branch (kul or shakh ) with a discrete political identity. Later the kuldevi intermittently manifests her presence by helping the group overcome other military and political crises. These manifestations are celebrated in myths chronicling the origins and early achievements of the Maher groups that kuldevis protect.
Because when a woman marries she loses membership in her father's kul and becomes a member of her husband's  kul , she is expected to worship the kuldevi who protects its members. Thus, the very first thing a bride must do when she enters her husband's household is to give respect (dhok ) to her new kuldevi . This is a caste norm; every Maher must loyally propitiate the kuldevi who has accompanied the family's kul into battle.
Maher Surnames and their Kuldevs, Gotra, Vansh, Isthtadev, Gor and Barot

Surname
Bhaiyat

Gotra
 Vansh
Ishtadev
Kuldevi
Gor
Barot
Keshwala
Antrolia, Bheynia, Ratadia,Butta, Erda, Bagordara
Kashyap
Suryavanshi
Ramchandra
Khodiyar Mataji
Shri Vindhyavasini Aai
Girnara Brahmin
Sonrat
Sisodia
Modhwadia, Kuchhadia, Khistriya, Godhania, Ranavaya, Hadadiya, Pashtariya
Kashyap
Suryavanshi
Ramchandra
Shri Vindhyavasini Aai Shri Chamundai Shri Gatran Aai Shri Sikotar Aai
Thanki Brahmin
Rehnuka
Rajsakha/ Jethwa

Karavadra, Khunti, Tilak, Gorania, Chundavadra, Jethwa, Surya, Jog, Modedra, Selot, Selar, Pariya- (Bhosiya) Bokhiria
Aashtang
Suryavanshi
 
Shri Vindhyavasini Aai
Shri Chamundai
 Joshi Brahmin
Brahbhat
Odedra
Moraji, Fatiya, Butad, Mokhra, Matra, Miya, Raha, Jagshana, Arjanka, Hathla, Visana, Okhai, Mepana, Dhundhana, Hemara, Devana, Balar, Jasana, Lala, Mokhariya, Asde, Vajpa, Ji, Tukadiya
 
Chandravanshi
Gorakhnath
Vachhada Dada, Patha Pir
Shri Sikoter Mataji
Chamunda/ Balvi
Joshi Brahmin
Sonrat
Jadeja / Kishore

Kadchha, Ratiya, Tarkhala, Kadegiya, Pipraniya, Mekhadiya, Kulranmiya
Atri
Samved
Chandravanshi
Ashapuri
Ambaji, Kandhali Aai, Ashapura Ma

Girnara Brahmin
Lagdhir
Solanki (Vaghela)

Timba, Samja, Vadaliya, Jakhniya, Bhanvadiya, Chabhhad, Divraniya, Bhogesra, Juneja, Gariyana, Sida, Chhaya
Atri
Chandravanshi
 
Shri Shikoter Mataji
Joshi Brahmin
Brahbhat
Parmar
Mahiyaria, Chatraviya, Liboriya, Kahaliya, Kotadiya, Jilaniya, Mosa, Mandera, Pata, Gorsera, Badeja, Chandela
Gautam Rushi
Agnivanshi
 
Simiyar – Mandvari
Shri Maha Kali, Shri Mandavadi Aai
Girnara Brahmin
Sonrat
Vadher/ Rathod

Sharma, Sutreja, Sindhal, Padodariya, Chandesha, Dasa,Pandavadariya, Chanrodariya,Mahikya
Kashyap

Suryavanshi
 
Shri Khodiyar Aai

Shri Gatran Aai

Girnara Brahmin
Sonrat
Vada
Muliyashiya, Khimdaniya, Bapodra-(Mashani) Amar, Agath, Mihikiya, Timmasiya, Bhetakiya
Kashyap
Suryavanshi
 

Visant Mataji
Shri Vindhyavasini Aai
Chamunda Ma
Vihot Ma

Joshi Brahmin
Brahbhat
Chavda
Navadiya, Kothvada, Kothadiya, Padorodiya
Kashyap
Suryavanshi
 
Shri Harshad Aai
Joshi Brahmin
Brahbhat
Chauhan
Gareja
 
Agnivashi
 
Shapurna mataj
Shri Chamuda Mataji
Joshi Brahmin
Brahbhat
Vadar
Nandaniya, Nakura, Badhsa, Hilla, Jasiya, Bamaniya
 
Chandravanshi
 
Shri Chamuda Mataji
Joshi Brahmin
Brahbhat
Parihar
Thapaliya
 
Agnivashi
 
Shri Chamuda Mataji
Joshi Brahmin
Sonrat
Vagh (Chudasama)

Bhalejia, Gorejiya
Atri
Chandravanshi
 
Shri Amba Mataji
Shri Khodiyar Mataji
Joshi Brahmin
Sonrat