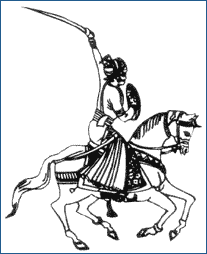 Before independence, the Mers living in the neighbourhood of Muslim states such as Junagadh, Manvadar, Mangrol etc. had to face indignities and harassments at the hand of Muslim rulers and their associates.
Kutiana was the stronghold of Khoja Muslims who had flourishing business in Bombay and other big cities. They were extremely rich and tried to overlord the Hindus of neighbouring villages with the help of others. There were some Sindhi households in the Mer village of Kotda near Kutianat town. They were habituated to immorality and killing of cows sacred to Hindus.
Two brave brothers Karsan and Ram living in Kotda could not tolerate all this injustice. They were always watchful about the misdeeds of Muslims, and once challenged them to release the cows of an innocent village woman of Hindu community. There were also Sidis (Nigro Muslims) who were also used a instruments to create terror in the minds of Hindus living in these areas. Ram and Karsan, the two brothers of the Jadeja linage took the cause of poor people and cows. In a clash that occurred, in one instance they killed some Muslims who were taking a cow for butchery, and in another case, one man who was tempting an Ahir woman for molestation and immorality was severely punished.
Article supplied by Kishan Sisodia