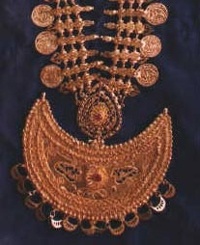 A traditional gold necklace, worn by ladies.
Jewellery in form of gold is regarded as status symbol and this tradition still continues. Mahers would spent a huge amount of money on buying gold jewellery, especially for their wives and daughters.
All the jewellery are specially designed and made to order for Mahers by the goldsmiths. Most of these jewellery are well designed and are bespoke to extend that they can not be made again by anyone else.
A family jewellery is usually past on from generation to generation and are so precious that Mahers would do anything to protect it beacuse it means so much. Most precious and beautiful jewellery are worn during weddings, festivals and during religious ceremonies.
Kanda and Kambi
Kanda and Kambi , were traditionally worn by Maher women.
Gallery – Maher Traditional Jewellery
{phocagallery view=category|categoryid=67|limitstart=1|limitcount=5|detail=3|displayname=0|displaydetail=0|imageshadow=shadow1}
View full gallery