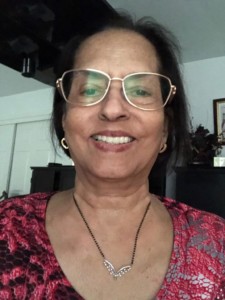 Sita Ram 🙏🏽🙏🏽🕉
It is with unbelievable sadness & heartbreak that we have to inform you that a beloved wife, mother, grandmother, sister & aunt, Mrs Induben Modhwadia (73 years old) passed away on Monday  16th November 2020 in Visalia, California USA surrounded by her loving family. She previously lived in Huntingdon, UK and has extensive family in US, India UK.
She was the devoted  wife of Arshibhai, loving mother to Aman & Ketan, amazing grandmother to Destinee and so much to rest of family.
She will be greatly missed by her entire family & all who knew her.  May her beautiful soul rest in eternal peace & God give strength to the whole family to deal with this unexpected & devastating loss.
We kindly ask that everyone respects the current strict Covid-19 government guidelines and offer your condolences only by phone or WhatsApp messages.
Arshibhai in US (please call after 5pm UK time): 001 559 636 6025.
Aman: 07788 577147
Shobhaben Vadar (sister): 07795 985588
Shantuben Sisodia (sister) in US (after 3pm UK time): 001 408 806 7748.
Aum Shanti 🙏🏼🕉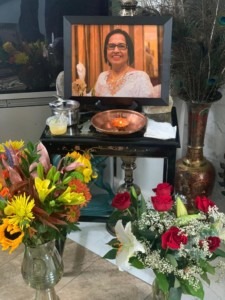 🕉Om Namah Shivai
Om Shanti Om Shanti🕉️
Funeral details for our beloved Wife, Mother, Grandmother, Sister and Aunt Induben Malde are as follows:
Thursday November 19th @ 11am (PST) / 7pm UK Time @
Salser & Dillard Funeral Chapel
127 East Caldwell Ave.
Visalia, CA 93277
To view the service via live broadcast please click on the following link 5 minutes before the service:
https://www.salseranddillardvisalia.com/
Scroll down the page and select the service for Indumati Malde November 19th and click on the live broadcast.
*Note link for the broadcast will be available approximately 5 minutes before the service.
Aum Shanti 🙏🏽🙏🏽