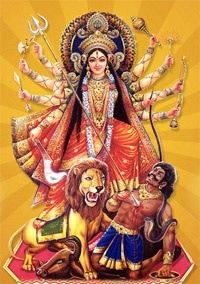 Shri Durga Mataji – slaying demon Bhairon Nath
As the legend goes, more than 700 years ago Vaishno Devi a devotee of Lord Vishnu, used to pray to Lord Rama and had taken vow of celibacy. Bhairon Nath, a tantric (demon-God) tried to behold Her. Making use of his tantric powers, Bhairon Nath was able to see Her going towards the Trikuta mountains and gave chase.
The Goddess felt thirsty at Banganga and shot an arrow into the earth from where water gushed out. Charan Paduka, marked by the imprints of Her feet, is the place where she rested. The Goddess then meditated in the cave at Adhkawari. It took Bhairon Nath nine months to locate Her, the reason why the cave is known as Garbh Joon. Mata Vaishno Devi blasted an opening at the other end of the cave with Her Trident when the demon-God located Her.
On arriving at the Holy Cave at Darbar, she assumed the form of Maha Kali and cut off Bhairon Nath's head which was flung up the mountain by the force of the blow and fell at the place where the Bhairon Temple is now located. The boulder at the mouth of the Holy Cave according to the legend is the petrified torso of Bhairon Nath who was granted divine forgiveness by the benevolent Mata in his dying moments.