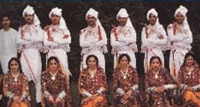 Maher Sports Tournaments, UK
There are several annual sporting events held around the globe, especially in UK, India and the USA.
The main sports featured are:
Football
Netball
Volleyball
Pool
Nav-Kakri
Kerem
Badminton
Cricket

In the UK, majority of the events are organised by Maher Sports UK, an organisation on its own right. These events are held in different cities each year (London, Luton, Milton Keynes, Peterborough, Loughborough and Leicester).
All the events are fought very competitively, of course in the sporting manner! Also there are one-off cricket matches between Fatana vs Rest and Odedra's vs Rest.