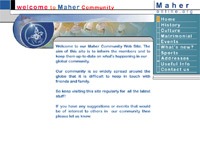 M
aheronline – 1st small flash version
A Brief History of Maher Online
Maher online is the direct result of Ram Odedra's final year multimedia project and his desire to maintain our heritage and history for the coming generations. The main purpose of the website was to create an educational and informative resource, especially for the younger generation who do not have much knowledge about their culture as they've been born and brought up outside of India, mainly in UK and USA.
Another reason was to create a stronger unity within the community by giving them a platform to interact and communicate with Maher's from around the globe. At the time there was no other such facility for the Maher community to interact or share knowledge.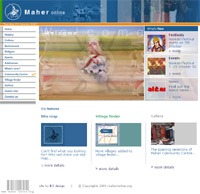 Maheronline 2nd version 2001-2003
Three versions
Since Maheronline was launched in 2000 there have been three versions of the site, the first was flash based, the second was html based and the current version is dynamic database driven.
Ram built the website in his own time and has been maintaining the site and spending personal time to maintain and adding new content to site. He spends at least an hour a day replying to emails, approving memberships, moderating the forum and maintaining the interactive features of the site.
Ram has a background in the Internet and multimedia industry for the past ten years and he been able to apply the experience and knowledge gained from commercial projects to Maheronline.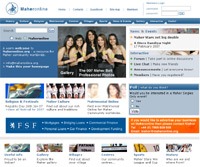 Maheronline – 3rd version (2003-2009)
Your Contribution is required
We need more volunteers to support and maintain existing website and to create new content.
We also need to generate the funding to maintain and take the website forward with the objective of forming a complete Maher online encyclopedia for our community.
The website has become the focal point of the Maher community worldwide as it is the only comprehensive website dedicated to our community, and this is acknowledged by the Maher users from all round the world.
We look forward to your support in taking Maher Online into the future.
If you have any questions, comments or suggestions then please email them to info@maheronline.org