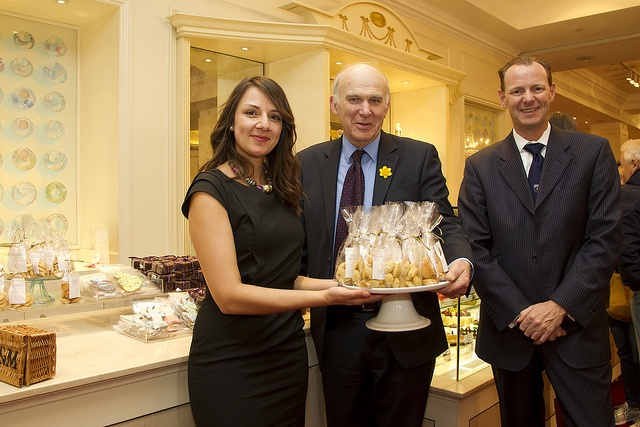 Rekha and 
Lawrence Tomlinson
 are to become the entrepreneurs in residence at the Department for Business, Innovation and Skills 
Business Secretary Vince Cable is set to get advice from two successful entrepreneurs appointed to help the government address the needs of small and medium sized businesses.
Rekha is daughter of Arshibhai M Karavadra from Bracknell.
Business owners Lawrence Tomlinson and Rekha Mehr are to become the entrepreneurs in residence at the Department for Business, Innovation and Skills (BIS) after fighting off competition from over 200 other applicants.
Experienced Leeds-based entrepreneur Lawrence Tomlinson has run businesses in a number sectors including construction, software, chemicals, cars, and care homes.
Rekha Mehr is the founder and owner of Pistachio Rose, a London-based business creating high-end Anglo-Indian cakes and sweets. She has been hired specifically to be a voice for start ups and small firms.
Business Secretary Vince Cable said:
These appointments are about better involving businesses in government's decision making process, so that we can support their growth in a more intelligent way.
I've already visited Lawrence's company headquarters near Leeds and had exposure to his trenchant view on banks and of the high-performance cars that he manufactures. I will be visiting Rekha's main retail outlet at Fortnum and Masons today.
Rekha and Lawrence will be important voices for businesses in my department. Having them on hand to offer feedback and advice will be a significant asset and help keep our focus firmly on the needs of entrepreneurs.
Serial Entrepreneur, Lawrence Tomlinson, who was awarded 'Overall Director of the Year' by the Institute of Directors in 2012 said:
I'm thrilled to be joining BIS and I'm eager to get straight to work and support the department's efforts to address the issues businesses are facing on the ground.
My key focus in office will be to tackle some of the key concerns around access to finance and improving bank lending to business and I will share the views and experiences of my peers with Ministers and officials on this issue.
Start-up Entrepreneur Rekha Mehr said:
I am very excited to begin work as the new Start-up Entrepreneur in Residence. It's easy to forget the early days and frustrations of starting your own business and I welcome the opportunity to share my experiences to help government improve their understanding of the needs of a start-up business.
There is a wealth of guidance and support available to SMEs which can be critical to their success in the early stages and I look forward to working with Ministers in the coming months to raise awareness of this and contribute to ideas for future initiatives.
Over 200 business owners across the country applied for the two available positions which were announced during last year's Global Entrepreneurship Week.
Notes to editors
2.The entrepreneurs will be office holders (not employees) and will receive a £10,000 pa honorarium for one days work per week. The appointment will be in a personal capacity and will be made for one year.
3.Start-up Entrepreneur – Rekha Mehr
The founder and owner of a London-based business creating high-end Anglo-Indian cakes and sweets.
Rekha was a buyer with Waitrose and Amazon. In February 2012 she set up Pistachio Rose an Indian inspired bakery with products at Fortnum and Mason.
4.Serial Entrepreneur – Lawrence Tomlinson
A Leeds-based entrepreneur with experience in a range of sectors, his portfolio now being dominated by care homes and racing cars. He has had multiple awards. He is passionate about helping small firms and has experience of a variety of sectors including manufacturing and engineering and health services.
Lawrence bought a single care home from his parents in 1988 from which he developed Orchard Care Homes – a company he sold in 2007 for £180 million. Now founder and chair of LNT group with businesses across a range of sectors including; construction, software, chemicals, cars, and care homes. He has employee share ownership in all his firms. Recently awarded IoD "Overall Director of the Year". Ambassador of Prince's Trust and supports disadvantaged people to make a start in business.
5.The government's economic policy objective is to achieve 'strong, sustainable and balanced growth that is more evenly shared across the country and between industries'. It set four ambitions in the
Plan for Growth' (PDF 1.7MB)
, published at Budget 2011:
to create the most competitive tax system in the G20
to make the UK the best place in Europe to start, finance and grow a business
to encourage investment and exports as a route to a more balanced economy
to create a more educated workforce that is the most flexible in Europe.
Work is underway across government to achieve these ambitions, including progress on more than 250 measures as part of the Growth Review. Developing an Industrial Strategy gives new impetus to this work by providing businesses, investors and the public with more clarity about the long-term direction in which the government wants the economy to travel.
For more information and full story visit
Government Official Website
Flickr Photo Gallery