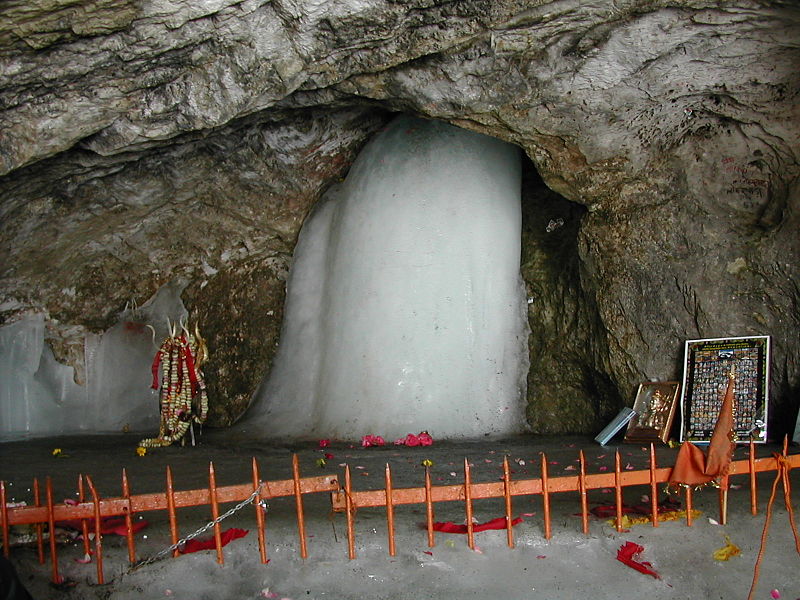 The Amarnath Goofa, a place where your mind and soul feel pure, your bond with god strengthens and miracles occur.
Within the beauty of Kashmir, lies the sacred temple, the Amarnath Goofa, a goofa were Shankar bhagwans ling forms naturally, and melts down naturally.
Early morning on the 19th of July 2012, we set out on my first ever yatra, with my dad, mum, Jiva mama and Simran mami and from the moment I woke up I knew it would be a memorable one. I had decided that the only way I would get to the top, to the goofa, would be by walking and I knew this was the hardest challenge I had set myself so far. As we started our journey walking from Panjtarni, the weather was hot, but bearable, and I knew walking up hill would be a mission! We began walking with Jiva mama at front, my dad and I in the middle and my mum and Simran mami at the end. Keeping up with Jivamama and his speed walking was impossible, so I persuaded my dad to walk slower!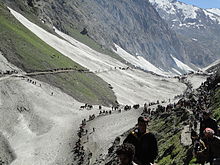 Walking on the narrow path on the mountains was scary, especially with horses, palkis and people walking, all both ways, the dangers were high, but the only thing in mind was our destination. I repeatedly chanted only one mantra in my head: "Jai Shankar Bhagwan" and moved forward. As we got higher, the road more dangerous in some places rather than others, the traffic got bigger. As we walked up, our eyes caught sight of two to four people walking on a smaller, short cut pathway; it was then a woman coming down on a horse shouted, "take that short cut, you'll cut past all the traffic." Without giving it a second thought we took the "short cut" that ended up to be the most dangerous route ever. The small pathway soon disappeared and we were climbing up the mountain, holding onto the stones to ensure we didn't fall down, straight into the Amar Ganga. Thankfully we slowly and safely reached the top.
The higher we got, the lower the oxygen levels went, and I was finding it hard to walk, I would be out of breath within seconds. Finally we reached Sangam, the point where all the paths and yatris met  together, at that point Jivamama shouted, "we're here!" he went forward, leaving us behind to find Simranmami, who had left us behind and gone up on a horse, and that was the last time we saw him that day. It was at this point the hardest part of our journey began. There were three paths leading up to the goofa, knowing our luck at the time, we took the hardest route up. The oxygen was so low, I would walk a few steps at be out of breath, slowly we were walking up, stopping to take a break every five steps. It felt like we had been walking for hours on end but the goofa was getting further and further away.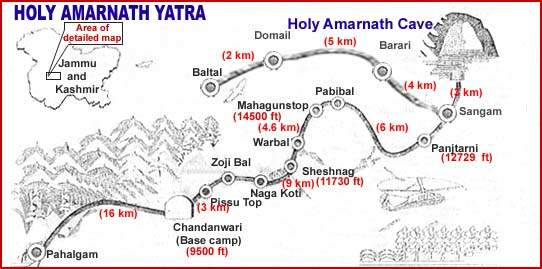 Slowly, painfully the three of us, my dad, mum and I, were getting closer to the goofa. Energy less and breathless I sat down for the 10,000th time, my eyes became heavy and I was feeling extremely sleepy, but I knew not to sleep, my destination was not far, I kept chanting "Jai Shankar Bhagwan" in my mind. My dad suddenly got up and walked forward to find Jivamama, leaving my mum and me behind, but not going too far ahead. After walking some more I was out of breath again, so I sat down on the ice. As I was taking a rest a man, in his late forties, smiled at me and asked where I had come from. Not revealing too much to this stranger, I replied by saying "Gujarat" he smiled at me, I smiled back, got up and began to walk again. Within seconds I sat down again, I could hardly breathe. I sat for about five minutes, my mum sitting further away from me, the same stranger came to talk to me, he asked if I was okay, I nodded as I was unable to breathe, he then took my hand and began to walk with me. I stammered, "m-m-mum" and glanced over at my mum; she had got up and was walking with us. He looked over at my mum, again at me and said in Hindi "don't worry I'm your mama."
My heart panicked a bit at first, but seeing my mum at my side I was okay and I walk hand in hand with this stranger, who open heartedly called himself my mama. After walking for some time I was again out of breathe and I sat down again. My new mama saw me struggling to breathe, he took out two oxygen pumps from his pocket and gave me two puffs of each and I was able to breathe again. I was still confused on whether to trust this man or not, but meeting him in such a holy place I did finally trust him.
After walking some more with this man, I found out he was a doctor and ran his own Bhandara, which had space for 300 people to sleep in, they catered food for all yatris, free of charge.  A few more minutes of walking and we caught up with my dad, who had not been too far ahead. The three of us were together again and with my mama, who was slowly taking us to the top. We had soon left the path, all the other yatris were going up, and my mama was taking us up a VIP route. Suddenly out of nowhere we heard our name being shouted out, it was Simranmami, and she had found us, the four of us where together.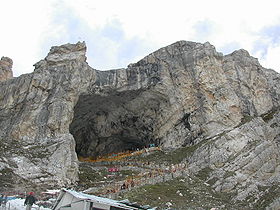 Finally after what seemed like forever, we had reached the goofa, it was in front of us. As we stood outside, my mama showed such beauties in the mountains, that we would never have seen if he was not with us. In the mountain opposite the goofa, we saw Sheshnag sitting at the top, his face clearly visible. Further along were two pinds in the mountain, next to each other, representing Radha Krishna. On the far left of the same mountain were five more pinds also next to each other, these representing the five Pandavas, it was amazing how they were the only pinds in the mountains, and how they still existed. On the right had side of the goofa, high up in the mountain, Ganesh bhangwans face was visible, it felt as if he was watching down on us, welcoming the yatris to the goofa. On the left hand side of the goofa, again high in the mountain sat Nandi. Being able to actually see these gods' faces in the mountains was amazing; this extraordinary creation in such a place could only have been made by God himself. It was after we saw all the gods, we had darshan of the two white doves, the only living creatures up there, the birds that are reborn again and agai
n from when Shankar bhagwan himself was there, making our yatra even more special.
After seeing the amazing creations in the mountains, we headed inside the goofa, thanks to my mama we did not have to be searched, nor did we have to remove any luggage. Once we were at the top, where the old helipad landing was, we removed our shoes, and sat on chairs bought specially for us. It was amazing how every army officer saluted my mama, the respect he was getting proved he was a good man, and we were extremely lucky to have met him. Once everyone had taken off their shoes and put plastic bags on their feet (walking on ice barefooted is impossible, we needed the plastic bags on top of our sock!) we made our way to the front of the gate to do darshan. Thanks to my mama, we stood in the VIP corner, our eyes fixed on the shivling, it was beautiful, and it felt as if Shankar bhagwan himself was standing in front of us. Looking at it, standing there brought tears to my eyes, it was unbelievable, I couldn't believe I was lucky enough to be standing there, I felt like the luckiest person alive. A sense of energy and happiness rushed through my body, my mind and soul felt pure, the tiredness and ache in my body had gone and I felt alive again. I couldn't take my eyes off the shivling, it was beautiful.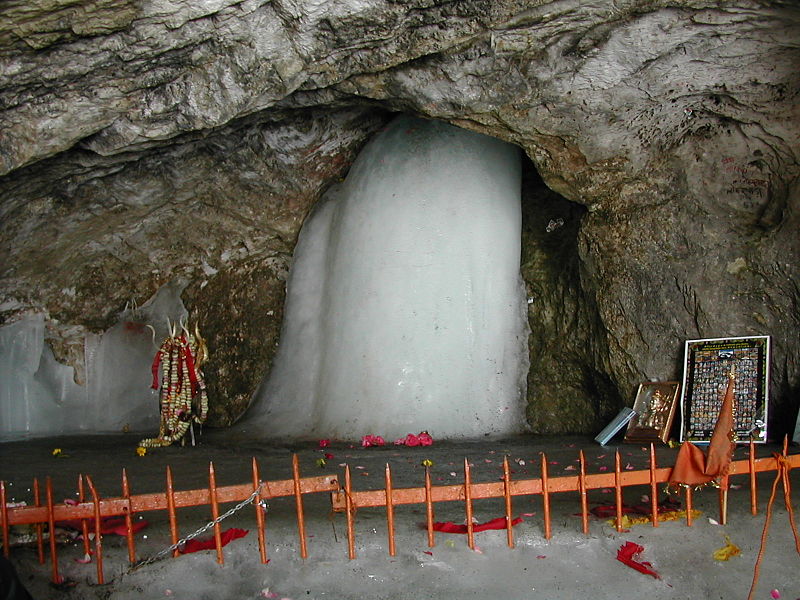 The shivling was as tall as 8 foot, and next to it a smaller ling, the ling of Mata Parvati. After doing darshan for around 20 minutes, which still did not seem long enough, we moved to the opposite corner, where the pundits stood. Thanks to my mama again, we were given lotas, naryars, parshad, Amarganga water, all from where the shivling was and were made to do pooja. It was an amazing experience; I felt blessed as if Shankar bhagwan himself was around us and had happily accepted our prayers. I was finally there, after all the struggle I had made it and it was unbelievable, all thanks to my mama. On his saying we stayed longer in the goofa, in order to complete the arti, and we decided to stay the night at the top, with my mama. As we stood in front of the ling, waiting for the arti, my mama made a very true statement to my mum, "I have called you my sister and you have called me brother, in this pure and holy place, in front of Bhole Nath himself, it is because of his will we have met, this proves our brother sister bond was meant to be and will last forever." A man, who was a stranger a few hours ago, was now so close to our heart and had done so much for us, made this an experience we will never forget.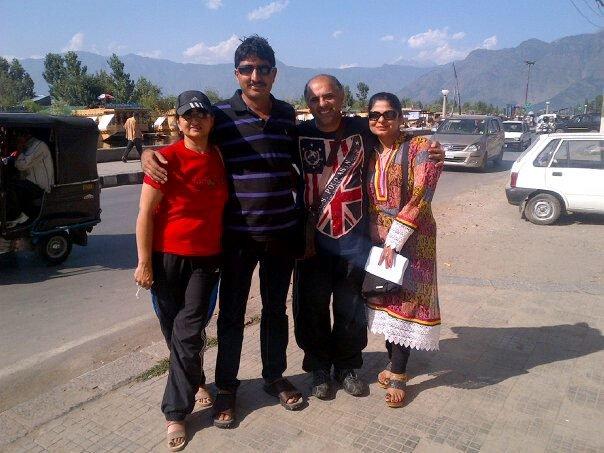 The experience we had truly was a miracle, we had a magical experience, and for me God himself came in the form of my mama to help me reach the top. One thing's for sure, dedication, belief and a will can help you accomplish any goal in life. This experience made me more of a Hindu seeing what was in the goofa was amazing and only god can create such a beauty, so high up in the mountains. There is only one thing a fit and healthy Hindu should accomplish in their lifetime, an Amarnath Yatra this is a place where the world's beauty lies. I've been there once and with god's grace I'll go there again.
Jai Shankar Bhagwan.
Krishma Dhiru Modhvadia