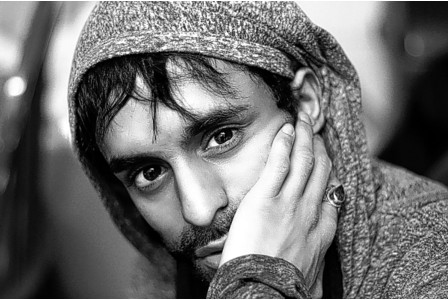 Growing up, Aakash Odedra's dyslexia drove him to express himself through the vocabulary of dance.
Now Aakash, 28, from Oadby, has received funding to come up with a performance about the condition.
He is one of five young artists to be awarded a £30,000 bursary from Sky Arts Futures Fund, and was chosen from more than 800 applicants. 
Aakash said: "Dyslexia was something I was affected by growing up.
 "There were a lot of funny moments of me reading things completely wrong, but there was the frustration of not being able to do things normally. 
"I managed to express myself through gestures and the arts instead and that pushed me into dance."
This week Aakash is in Austria working with choreographers to put together a high-tech one-hour show.
He is working with ARS Electronica Futurelab, a company which will add some digital magic to the show. 
It will feature a touch-sensitive electronic floor which sends out ripples each time his feet hit the ground. 
The show is likely to premiere in London or Leicester.
Aakash said: "We are going to be using digital technology to enhance the ideas in the performance, including floor sensors and hanging sheets of gauze which project images when I move behind them. 
"I think each project I do gives me more influences and helps me grow subconsciously.
"It's easy to look back and see that change after 20 years of dancing."
Despite his physically demanding job, Aakash said staying in shape was not hard as long as he kept on dancing.
He said: "The danger is only when you stop for a week and then you have to work hard to get back to being in top condition.
"While I'm dancing it's easy to stay in shape and I'm actually a bit of a junk food fan – pizza and falafel in particular.
"I'm in Linz, in Austria, at the moment and the chocolate here is great."
Last July, Aakash was honoured with the title of Dancer of the Year at the Premio Danza and Danza Gala Awards after performing his dance, Rising, at the Festival Bolzano Danza in Brescia, Northern Italy.
He trains in the classical Indian dance disciplines of Kathak and Bharatanatyam, creating Rising while working with choreographers Akram Khan, Sidi Larbi Cherkaoui and Russell Maliphant, who are well-known in the world of dance. The win helped him seal the grant from the Sky Arts Futures Fund.
He said: "It's very special to be recognised as a performer. 
It was a privilege to perform my solo in Brescia."
Article Credit: By Tom Mack, Leicester mercury